RESEARCH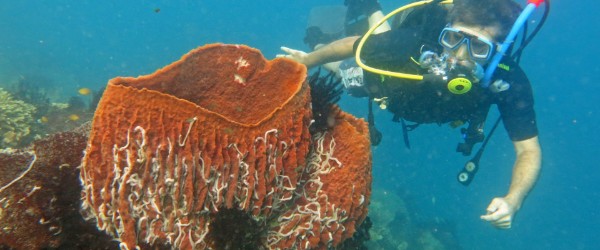 Current Research Projects (at Bogor Agricultural University, Indonesia)
Counteracting Loss of Biotechnological Resources & Ecosystem Functions caused by potentially Climate Change-driven Species Invasions into Indonesian Coral Reefs
The potentially severe threat by the invasive "black disease" sponge Terpios hoshinota and other coral-killing invertebrate species proliferating in Southeast Asian coral reefs in response to Climate Change effects is alarmingly underreported. The imminent scenario for Indonesian coral reefs is marine biodiversity loss, resulting in the loss of important ecosystem functions and a yet largely untapped treasure trove for biotechnological innovation. For T. hoshinota it has been proposed that there is a recent south-westward movement of the invasion towards Indonesia, starting from the Mariana Islands, where the sponge was initially reported. Via this route also many other potentially harmful organisms might enter the Indonesian archipelago. An immediate systematic assessment of the threat and development of counteractions is, therefore, urgently required. However, superimposition of climate change effects by numerous other (anthropogenic) stressors result in a complexity that makes it difficult to attribute observed biodiversity changes to a single factor. We, therefore, have started an internationally-membered comparative approach for systematic pattern recognition in invasions and potential invasion-driving factors. This approach is based on the combination of innovative monitoring techniques with analyses of ecological interactions at various levels by means of state-of-the art research technologies, including metabolomics, metagenomics, next generation sequencing techniques and molecular phylogeographic approaches. The project is conducted in four modules, aiming to
monitor the extent of the threat to coral reef biodiversity by the invasive sponge

identify patterns in invasion-driving factors (e.g. Climate Change effects and anthropogenic impacts)

understand the complex symbiotic and allelopathic interactions of the coral-killing sponge with the coral reef biota

make use of the ecological insights gained by our investigations through a subsequent knowledge-based approach to discover novel bioactive compounds with anti-cancer and anti-microbial properties.
Field surveys and specimen collections are conducted at numerous locations across the Indonesian archipelago, strengthening the research and education network among Indonesian universities and promoting capacity-building in modern analytical technologies.
| | | |
| --- | --- | --- |
| | | |
| The sponge Terpios hoshinota overgrowing corals | | Monitoring of Terpios growth dynamics |
Induced and Activated Defenses of Benthic Marine Organisms as Potential Source for Novel Bioactive Compounds
Every year, dengue fever and dengue hemorrhagic fever affect 50 million people worldwide, mainly in Southeast Asia, the Pacific region and South America. Compounds derived from macroalgae and their endophytic fungi frequently exhibit antiviral activity, in some cases they have potential to be developed to a drug against the dengue virus. Dynamic chemical defenses in siphonous green algae have attracted much attention since they oftentimes result in a boost of bioactivity through the formation of highly active defense compounds in response to environmental stressors. We aim to explore and utilize the metabolic diversity of siphonous green algae and their endophytic fungi, making use of these responses towards stressors such as pathogens and tissue damage in order to identify anti-dengue compounds through a novel metabolomics/bioassay guided approach.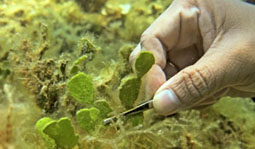 "Harvesting" siphonous green algae
Effects of Microplastics & Temperature Change on Marine Benthic Invertebrates
This project is part of the Global Approach by Modular Experiments (GAME) program hosted by the GEOMAR Helmholtz Center for Ocean Research in Kiel, Germany. Several bi-national teams of students carry out experiments across the globe in a concerted manner.
| | | |
| --- | --- | --- |
| | | |
| GAME Team 2014 | | GAME Team 2016 |
General Research Areas of Interest
Coral Reef Ecology


Chemical defense of marine invertebrates

Specialized predators and their adaptations

Anthropogenic & Climate Change Effects on Interactions between Coral Reef Invertebrates
Impacts of Invasive Invertebrate Species in Coral Reefs
Marine Natural Products ('Drugs from the Sea')

Microbial Ecology of Marine Invertebrates

Symbioses between marine invertebrates and microorganisms

Comparative analysis of associated microbial communities under different habitat conditions