During my 2.5 years in Indonesia I have been lucky to see many places in this beautiful country. Below I have compiled a small selection of impressions that can only give a glimpse into the immense diversity that can be experienced when travelling the archipelago. I have selected both positive and negative images, because that is how Indonesia is - stunning, both because of its beauty but also because of the fast pace at which this beauty gets destroyed. There is a lot to be done to preserve Indonesia's nature for future generations - and it has to be done quickly.
To learn more about my work in Indonesia, please have a look at these pages: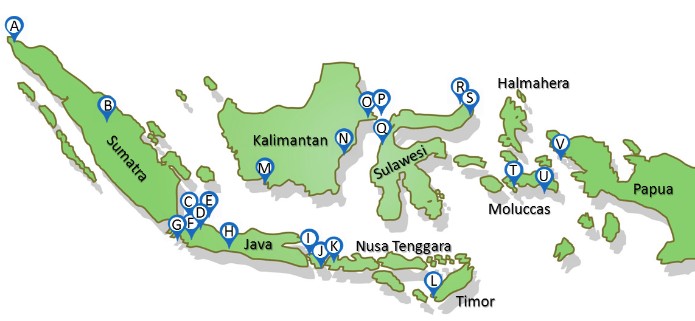 ---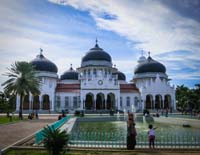 (A1)
Muslim Culture: Mosques are omnipresent in Indonesia - no surprise in a country with the world's largest Muslim population. This is the Baiturrahman Grand Mosque in Banda Aceh I had the pleasure to visit when I was on a business trip to Aceh.
I greatly admire the usually easy-going multi-religion society in Indonesia.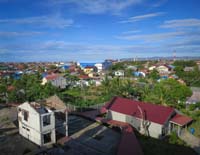 (A2)
Tsunami Memorial: The Tsunami in 2004 devastated the entire area around Banda Aceh. Today, everything looks normal again - but the shock can still be felt when staying in this town. I visited the Tsunami Memorial and was greatly impressed.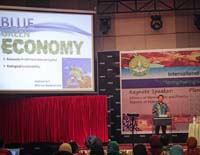 (B1)
Blue Economy Conference at the University of Riau: I was invited to Pekanbaru as keynote speaker at a conference on an emergent topic in Indonesia - the Green Economy of the Oceans.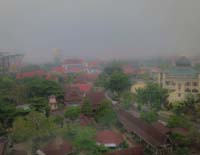 (B2)
The Haze over Pekanbaru: I experienced the haze resulting from forest fires that can almost be called typical for the town Pekanbaru. This photo was taken in 2014 with just the "normal" haze - much less intense than in 2015 when the Sumatra forest fires made it into the world's media.
---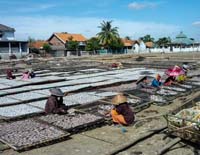 (C1)
Traditional Fisheries: Just a few kilometers northwest of Jakarta metropolis, on the small islands in Banten Bay fishermen use traditional techniques to catch and dry fish.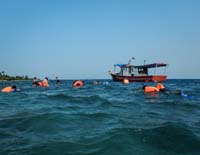 (C2)
Transition to tourism on small islands: More and more fishermen use their boats to bring local tourists to coral reef sites. This way, big groups of tourists find their way even to remote reefs and cause considerably damage to the coral biota.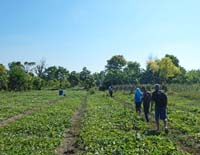 (C3)
Agriculture fields on the small islands off the coast of Java: Besides fisheries, aquaculture and tourism on few small islands also agriculture represents a livelihood for the local population – but due to lack of space and nutrient-rich soil this is rare.
---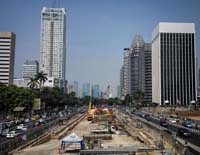 (D1)
Jakarta - the ever-growing capital of Indonesia: With an almost permanent traffic collapse and a population of about 17 million people one would think Jakarta is already at its limits – but there is construction of huge buildings and major road projects going on everywhere.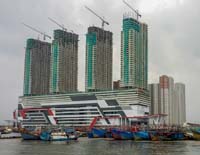 (D2)
The City of Extremes: Extremely poor and extremely rich, slums and luxury shopping malls - all are directly neighboring each other. In fact, in Jakarta everything is clogged together. There is an extreme density of people and traffic. And it gets more and more.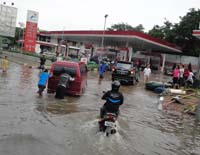 (D3)

Flooding in Jakarta: Almost annually the Jakartans have to endure severe floods during the rainy season.
---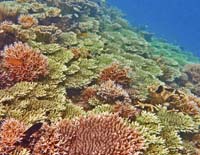 (E1)
Intact reef in the Thousand Islands archipelago: It is hard to predict where to find healthy coral reefs in Indonesia. You can travel to the most remote island - and find a reef that got destroyed by dynamite fishing. Or you can dive at areas that are heavily impacted by tourism and nearby Jakarta such as the "Kepulauan Seribu" archipelago - and find beatiful and diverse reefs there.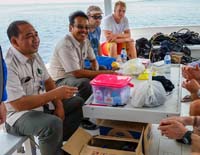 (E2)

Kepulauan Seribu National Park in the north of Jakarta: For our research projects we had interesting discussions with nature reserve managers and officers on possibilities for collaborations.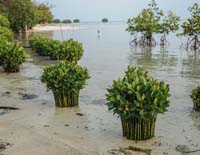 (E3)

Mangrove Reforestation at Pulau Pari, one of the islands in the Kepulauan Seribu archipelago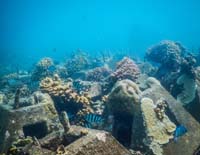 (E4)
Coral Reef Rehabilitation off the coast of Pulau Pari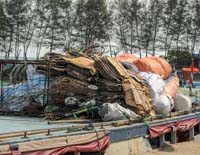 (E5)

Recycling: There are immense amounts of trash lying around on the small islands in the north of Jakarta (and, unfortunately, almost everywhere in Indonesia). No surprise considering the high population density and the vast amounts of tourists that visit these tiny islands every weekend. But there are now first small changes towards the better and occasionally boats with sorted waste can be observed travelling to mainland recycling facilities.
---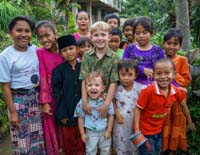 (F1)

Living in Indonesia: Bogor has been my family's and my hometown while living in Indonesia. It took us a bit to get used to it. But now it will be very hard for us to say goodbye. We've had a very good time there.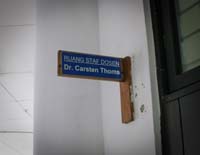 (F2)

Working at the Bogor Agricultural University: Being a lecture at an Indonesian university in an entirely Indonesian environment has been an interesting and great experience. I have learned a lot about the challenges of intercultural dialoge and how things can be seen from completely different angles.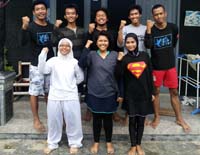 (F3)

Indonesian Student Power: I am greatly impressed with the marine science students at Indonesian universities who gain a lot of hands-on field experience during the studies and are great organizers when it comes to preparing for field trips and arranging scientific conferences.
(F4)

Macet: "Macet" is the Indonesian word for traffic jam and is a serious problem in all bigger Indonesian cities. In Bogor there is always macet - almost everywhere. And during the weekends it oftentimes gets worse than in Jakarta, because (almost) all 17 million Jakartans go to Bogor over the weekend.
---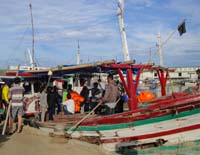 (G1)
Student Excursions to Pelabuhan Ratu: Pelabuhan Ratu is a harbor town at the southern coats of west Java that typically is used for oceanographic excursions by our university. Regular fishing boats are usually rented to go out on the sea.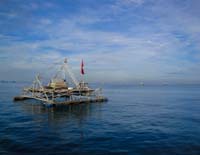 (G2)
Bagan: A traditional Indonesian fishing platform off the coats of Pelabuhan Ratu (but used all over Indonesia)
---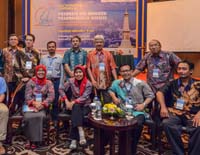 (H1)

Conference in Yogyakarta: Conferences, workshops and meetings are important elements of an Indonesian scientist's life. Here I am at a conference on the pharmaceutical utilization of marine resources. Whenever I have been invited as a speaker to a conference in Indonesia I was hosted by the organizers in a most friendly and pleasant manner.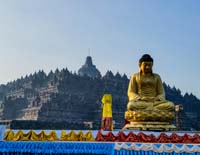 (H2)

Borobodur: Indonesia has a plethora of fascinating ancient monuments. The Borobodur temple close to Yogyakarta is one of the most famous of them.
---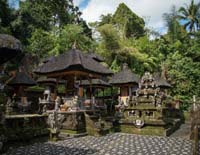 (I1)

Bali temples: In Bali there are amazingly beautiful temples everywhere. If you manage to avoid the tourist crowds, Bali can be very fascinating.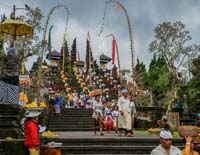 (I2)
Ceremony at the Pura Besakih Temple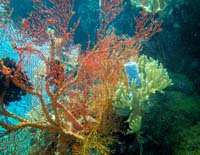 (I3)

Coral Reefs in Bali: In the northwest of Bali there are beautiful reefs and an interesting coral restoration approach.
---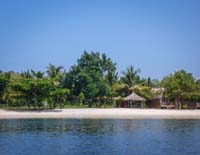 (J1)
Secret Gillis of Lombok: While the small islands in the northwest of Lombok are touristically fully developed, there are "secret" islands in the southwest where tourism is just starting and ecotourism is promoted. Hopefully this can prevail!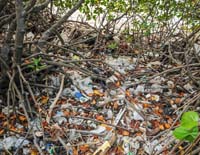 (J2)
Trash, even in the remotest places: Even at far-away locations in Indonesia there are tons of garbage lying at the beaches. Oftentimes, this is washed ashore from neighboring bigger islands - especially at islands who are situated in the "Indonesian Throughflow", a major current going through the archipelago from north to south and carrying massive amounts of plastic litter.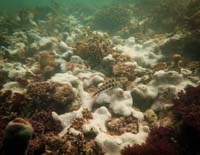 (J3)

Coral-killing invertebrates: Another potentially big threat to Indonesian coral reefs - outbreaks of coral-overgrowing species. We have observed massive growth of different sponge and ascidian species that outcompete and kill corals, sometimes at a large scale. So far there is very little known whether there is an increasing trend towards such outbreaks and what may be the causing factors. On this photo, a whitish-grey ascidian can be seen overgrowing a huge area of a reef.
---
(K1)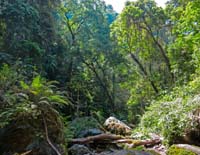 Pristine Forest in North Lombok: While the south of and west of Lombok island is densely populated, there are pristine forest areas in the north, around the volcano Gunung Rinjani.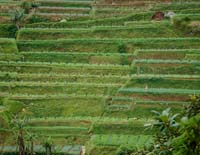 (K2)
Traditional Agriculture Fields: As a matter of course, mainly rice is produced here – but there are also numerous other agricultural products.

---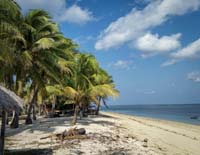 (L1)
Pristine Beaches on Pulau Rote, Nusa Tenggara Timur: The island Pulau Rote was the only place I have been visited in Indonesia that was "naturally" clean - both beaches and inland were (almost) free of garbage.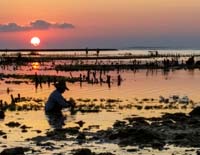 (L2)
Algae cultures: But also here the coasts are threatened by human activities. Along almost the entire shoreline seaweed cultures have been started - on top of the reef flat. The algae are attached to plastic ropes with plastic bottles as floats. Both will eventually turn up as plastic litter on the beaches. And the diverse reef flat biota is turned into an algae monoculture.
---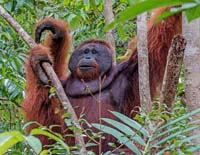 (M1)
Orang utan santuary, South Kalimantan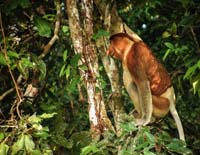 (M2)
Proboscis monkeys in the Tanjung Puting National Park: These monkey species is endemic to Kalimantan (Borneo) - that means it lives nowhere else in the world than in this particular place. It was very fascinating to see a group of them nearby while cruising with a "Klotok" on the Sekonye river.
---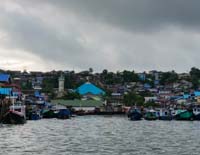 (N1)
Balikpapan is a seaport city on the eastcoast of Kalimantan. It is a center of petroleum porduction.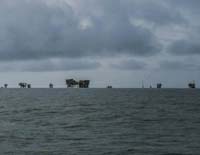 (N2)
Numerous oil rigs in the bay of Balikpapan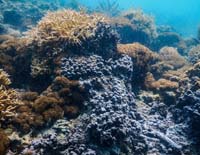 (N3)
Balikpapan Bay is one of many places where we found the black sponge Terpios hoshinota massively overgrowing and killing corals
---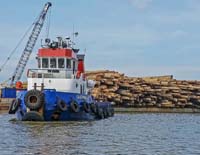 (O1)
Logging in Kalimantan: When driving overland in northeast Kalimantan, we saw huge deforested areas. Later, when going by boat on the Berau river we passed gigantic floats filled with thousands of rain forest logs.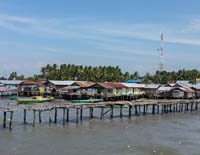 (O2)
Local fishermen communities on the northeastern coast of Kalimantan
---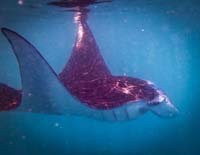 (P1)
Beautiful marine life in the Maratua Atoll (NE-Kalimantan): Diving close to manta rays is a fantastic experience.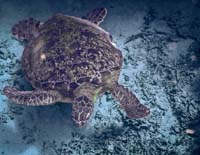 (P2)
An impressive number of sea turtles live on the reefs off the Maratua islands and the marine life appears largely intact. But also here the pressure of tourism is building up, especially on Derawan, the island closest to the mainland.
---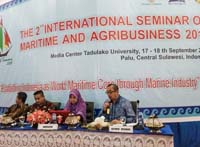 (Q)
My first trip to Sulawesi was as an invited speaker to a conference in Palu with the title "Establishing Indonesia as World Marine Core through Marine Industry". So I gave my talk the title "Indonesia's Marine Biodiversity – A Treasure Trove for Indonesian People that needs to be Protected!"
---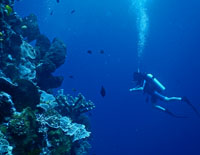 (R1)
Bunaken Marine National Park. The island is under the strong impact of the nearby city Manado and increasing numbers of tourists – but so far has still retained some of its pristine charm and exceptionally beautiful reefs with a fantastic diversity of amazing marine critters.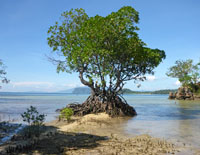 (R2)
Bangka Island has not been discovered by many tourists yet and is further away from Manado than Bunaken – it offers true Robinson Crusoe feeling. But also this remote island has been threatened by human activities. A Chinese company started a major mining project here – that fortunately was stopped by conservationists.
---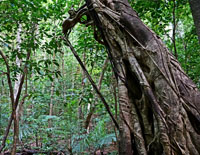 (S)
Tangkoko Nature Reserve offers a protective environment to prevent extraordinary wildlife such as the world's smallest primate (Tarsius tarsier), black macaques, Maleo birds, and kuskus from becoming extinct.
---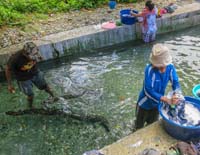 (T)
The holy eels of Ambon.They are fed with raw eggs as entertainment for tourists and the women wash their laundry with copious amounts of detergent right next to them. It seems they got used to this.
---
(U1)
The Banda Islands,a small group of volcanic islands in the middle of nowhere (or, to be more precise, in eastern Maluku).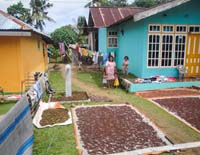 (U2)
In the 16th century these islands were famous among European aristocrats because of their nutmeg and cloves production. Nowadays, only few westerners get here – despite the beautiful, pristine reefs.
---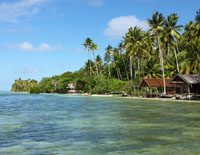 (V1)
Raja Ampat (West Papua): The most stunning place I've ever been to in my life (the only place that gets close to this is Palau)...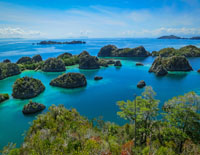 (V2)
..here you can take 360-degree photos anywhere - in every direction you point your camera you get unspoiled beauty – both above and below the water level...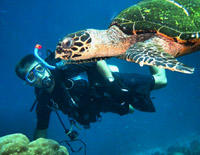 (V3)
It is great that such places still exist - they must be preserved for future generations!
Through my work and also through leisure activities I became friends with many people at several environment organizations operating in Indonesia, including World Wildlife Fund (WWF), Wildlife Conservation Society (WCS), Center for International Forestry Research (CIFOR), Conservation International (CI) and many more. An amazing bunch of people!